Chole has arrived at my cafe as it's the 3rd birthday of my cafe mobile game. This special day is also the birthday of Ann and Chole, so it's a triple birthday celebration. Chloe is a special customer who only appears for special occasion. She is Ann's twin sisters and Max's girlfriend. If you are playing at level 8 and above, I think you already started delivering her orders. I have completed 30th order from Chloe. Here I will let you know how many exciting prizes I have won during this birthday celebration from all the customers of my cafe and full story of Chloe, Ann and Max.
Also read

My cafe birthday special offer – Is it worth?
My Cafe Chole Story birthday update
I think you already played the trivia game with Chloe and got prizes from Bill, Petrovich & Watson. Now, after completing 6 orders, Chole informs you that Kauffman already has fixed Ann's teddy bear. During fixing the bear he found a childhood picture of Ann inside the teddy. She says that Ann has 3 favourite toys- a teddy, a doggy and a birdie, and she wants to find and gifts them all to Ann as her birthday gift. That's why she is going to the place where they used to live before.
Once you complete the 9th order of Chloe, she informs you that the security system is very difficult to find the real door to get inside. There are 3 doors and if wrong door was chosen, the real door will be locked. So, you need to take Watson's help to find the real door. Watson suggests you should make a draft and light a candle. The flame will flicker at the real door.
After completing 12th order, she tells that she saw a silhouette when she got inside the old house. She thinks that may be a ghost, so she didn't get inside the house. After 15th order, Chloe's boyfriend comes to my café to rescue her from the ghost problem. He goes with Chloe to find what the real problem is.
When 18th order completes, Max informs you that it was not a ghost, a poor dog was sneaked into the house though the doggie door and got stuck into a plastic. That's why it was scary to Chloe. Chloe thinks she will give the dog to Mr. Kauffman as a gift. They found Ann's two toys (the teddy & the doggy) inside the house. Now she is heading to her childhood enemy, Dorothy.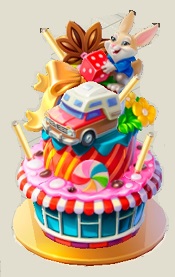 After 22nd order, she informs you that she talked to Dorothy. Dorothy informed, ANN'S 3rd toy was a stuffed parrot with a build in microphone. In childhood, Chloe gave that toy to her as she was sick of this toy. But now, Dorothy stole the teddy & the doggy also and she is not willing to give them back.
You ask Max for help. He wants to plant flowers at Dorothy's house which will take 27 orders to finish. But if you give him 389 diamonds, he will hire a gardener to do the job so that you don't have to do order. Once you complete 27 order, Max completes the job and Dorothy is happy. She returns all the toys happily to Max. All the three birthday gifts are ready to celebrate the birthday now. Wish happy birthday to Chloe.
You wish happy birthday to Ann and she is very happy to get back her childhood toys.
Ann and Chloe celebrate their birth with Max and Ann's 3 toys.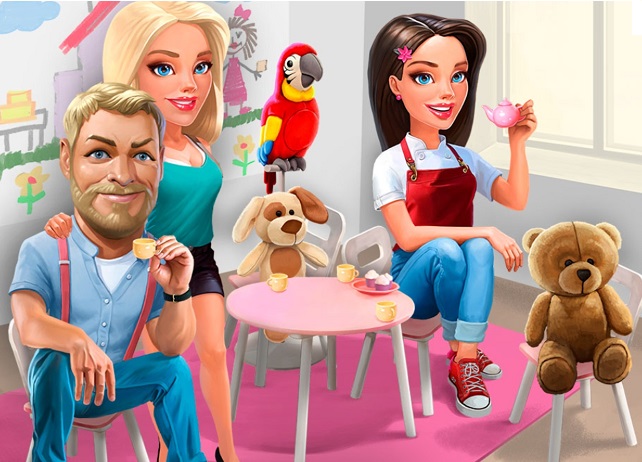 Now it's the time to say good-bye to Max.
All the gifts I got in My Café birthday update
Once you complete 6th order, she gives you a piece of birthday cake as a gift. A secret surprise is there for you here. But Chloe does not tell you what the surprise is! 
Just place the birthday cake to your cafe from store house and tap on it. If you tap once, the candle will be lit for sometimes. While the candle is lit, keep tapping on the cake and you will find what the surprize is! You will get 10 saffron from this cake.
After completing the 22nd order, she will give you a new piece of birthday cake for your helping.
Place the 2nd piece of birthday cake to my café and tap on it. You will get 2 golds.
After completing the 27th order, she will give you the third piece of birthday cake.
Place the 3rd piece of birthday cake to my cafe and tap on it. You will get 10 diamonds.
Ann gifts you the last piece of the cake and 3 diamonds once you complete 27th order.
Place the last piece of birthday cake to my cafe and tap on it. You will get a pink gift.
As it is the cafe's birthday, some of your customers will give you below gifts:
Margaret:

1 Cardamom
Bill:

1 guarana
Mary:

1 Ginseng
Watson:

1 Galangal
Fernando:

1 Diamond
Koffsky:

1 Nutmeg
Alice Carroll:

1 Diamond
Kevin:

1 Saffron
Olivia:

1 Diamond
Petrovich:

1 Diamond
Lucas:

1 Diamond
Felicia Stum:

1 Diamond
Emily:

1 Diamond
Clyde Bowen:

1 Diamond
As I completed 30 orders of Chole, I also got 90 DIAMONDS, 2 PINK GIFT, 1 BLUE GIFT & 1 GOLD GIFT.
This is what I have found out. There might be something more, or something different for other players. If you find something else or different please do mention in the comment section below.
If you do not have Chloe as a customer to your café, just update the game from play store.