HP has come up with an attractive laptop around Rs. 50,000 range in India. It is available in Amazon. Though we have not seen the same available in HP website itself. Model : FQ1030AU
But I have personally bought the laptop from Amazon and it is really awesome and a real deal. So nothing to worry about.
The laptop has an amazing configuration within its price range, making it the best laptop you should consider around 50K.
Price
The exact price of the laptop varies in Amazon according to its availability by about INR 1K. It sometimes become INR 50990.00 and sometimes it becomes INR 51990.00 But don't worry, if you see the higher price you can wait, it may get down again as it happened with me.
If you want to buy this laptop, I would recommend to get it soon, as the price might increase if demand increases.
Screen
Display is 14 inch. Its a Full HD display. Brightness level is 250 nits. But the screen is NOT anti-glare. That is the only negative point.
The screen to body ratio is very good with very narrow bezel.
Processor / CPU
This is one of the reason which makes this laptop best. It is powered by new AMD Ryzen 5000 series processor. AMD Ryzen 5 5500U.
This processor has 6 cores and 12 threads. This makes multi tasking very smooth. Base clock speed is 2.1 GHz which can be boosted up to 4 GHz.
The architecture is based on 7nm, which makes this laptop a very power efficient one as well.
Graphics / GPU
The Graphics you get inbuilt with this processor is AMD Radeon with frequency of 1800 MHz and graphics core count of 7.
This would mean that your can do photo or video editing, play medium games.
If you are a heavy end gamer or need to do very high resolution of editing like 4K, then would suggest to go with a laptop with dedicated graphics card instead.
RAM
The laptop comes with 8 GB of DDR4 RAM, up to 3200 MHz. The RAM is expandable up to 16 GB. So, don't worry if you feel you need more RAM, you can always upgrade.
Memory
HP FQ1030AU has 512 GB PCIe NVMe M.2 SSD. The memory is enough for normal usage and having complete SSD storage makes the laptop very fast.
Moreover, the type of SSD is NVMe M.2, which is much faster than SATA SSD.
Input Output
HP FQ1030AU comes with backlit keyboard. Yes, though this is not mentioned in Amazon, the keyboard here is backlit with 2 levels of brightness.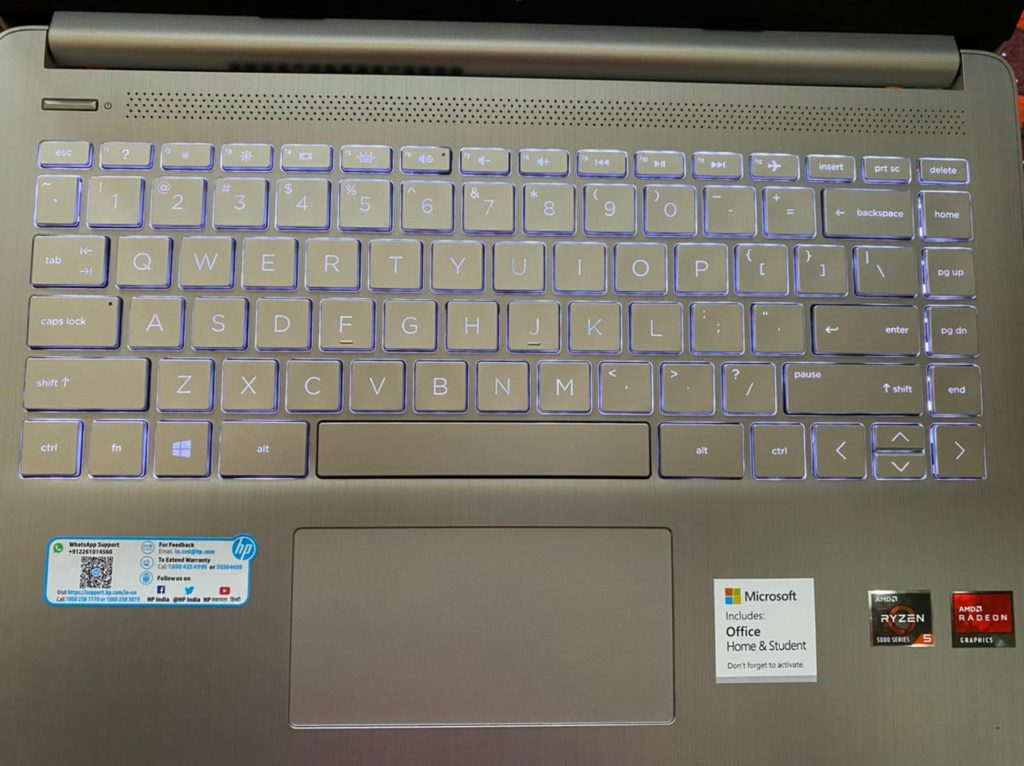 Of course there is not numeric pad as this is a 14 inch laptop.
Web Cam is built in with this laptop with 720P HD resolution.
Ports
2 USB 3.0 Ports
1 HDMI Port,
USB Type C (you cannot charge the laptop with this port)
Audio jack to connect headphone
SD Card reader
Led light indicator for ON/OFF
LED light indicator for SSD
PIN connector for charging.

Battery and Charger
65W Charger is included with the HP 14S FQ1030AU laptop.
Softwares
Operating System
This HP 14 laptop comes with Windows 10 Home Single Language preinstalled.
Microsoft Office
Yes, MS Office Home and Student 2019 is pre-installed in this device and comes with lifetime subscription.
Additional softwares
McAfee is pre installed and comes with 30 days free trial. You just need to register.
Dropbox is also installed and comes with free trial, which would help you to copy data from your old laptop to this new one.
Should you buy HP 14S FQ1030AU?
If your budget is around 50,000 INR and you need a laptop for working mainly along with movie watching and running some medium to heavy games and a bit of photo and video editing then this is the best laptop for you. Since this is 14 inch with only 1.46 KG weight, its very easy to carry.
If you are looking for a laptop to watch movies only, then you can take this but remember you will not get a 15.6 inch screen here.
If you are a hard gamer or high end photo or video editor, then I would suggest to go with a laptop having dedicated graphics card.
You may find other brand laptops or Intel i5 11th gen at this price as well, but I personally feel Ryzen 5500U is better than intel 11th gen and also the Radeon graphics is better than IRIS.
Thank you and let me know in the comments what do you feel about this laptop and if you are going to buy it. Ask me anything about this laptop and I will try to answer. Also mention if there is something that I missed above.